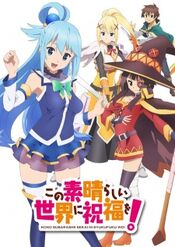 The anime adaptation of Kono Subarashii Sekai ni Shukufuku wo! was produced by Studio Deen and directed by Kanasaki Takaomi. A 10 episode season aired from January 13 to March 16 2016 and covered the first and second of the series. A second season aired from January 12, 2017 to March 16, 2017 and covered the third and fourth light novels. An OVA was bundled with the ninth volume of the light novel, and a second one was bundled with the twelfth volume.
A movie titled "KonoSuba – God's blessing on this wonderful world!: Legend of Crimson," featuring a returning cast, composer, scriptwriter, director, and character designer, but a different studio in J.C. Staff, premiered in Japanese studios on August 30, 2019; limited advance tickets went on sale August 26. It is set to air in specific countries around the world via Crunchyroll, and will be shown one day only on November 12 in US theaters. The movie covers the fifth novel of the series.
On October 5, 2018, a spin-off, cross-over series between Konosuba, Re:Zero, Overlord, and Youjo Senki produced by Studio PuYUKAI and titled "Isekai Quartet" was announced. The Konosuba characters involved feature the main cast (Kazuma, Aqua, Megumin, and Darkness), all reprised by their original voice actors; the show began airing on the 10th of April, 2019.
The opening and ending themes are fantastic dreamer and Chiisana Boukensha for the first season and TOMORROW and Ouchi ni Kaeritai for the second season.
Episode
Title Screen
Title
Air Date
Volume
1
この自称女神と異世界転生を!
This Self Proclaimed Goddess and Reincarnation in Another World!
January 13, 2016
Volume 1
2
この中二病に爆焔を!
An Explosion for This Chuunibyou!
January 20, 2016
Volume 1
3
この右手にお宝(ぱんつ)を!
Panties in This Right Hand!
January 27, 2016
Volume 1
4
この強敵に爆裂魔法を!
Explosion Magic for This Powerful Enemy!
February 3, 2016
Volume 1
5
この魔剣にお値段を!
A Price for this Magic Sword!
February 10, 2016
Volume 1
6
このろくでもない戦いに決着を!
A Conclusion to This Worthless Fight!
February 17, 2016
Volume 1
7
この凍えそうな季節に二度目の死を!
A Second Death for this Freezing Season!
February 24, 2016
Volume 2
8
この冬を越せない俺達に愛の手を!
A Loving Hand for Our Party that Can't Make it Through the Winter!
March 2, 2016
Volume 2
9
この素晴らしい店に祝福を!
Blessings On This Wonderful Shop!
March 9, 2016
Volume 2
10
この理不尽な要塞に終焔を!
A Final Flame for this Ridiculous Fortress!
March 16, 2016
Volume 2
OVA
この素晴らしいチョーカーに祝福を!
Blessings On This Wonderful Choker!
June 24, 2016
Anime Original
Episode
Title Screen
Title
Air Date
Volume
1
この不当な裁判に救援を!
Help for This Unjust Trial!
January 11, 2017
Volume 3
2
この紅魔の娘に友人を!
A Friend for This Kouma Girl!
January 18, 2017
Volume 3
3
この迷宮の主に安らぎを!
Peace of Mind for This Labyrinth's Master!
January 25, 2017
Volume 2
4
この貴族の令嬢に良縁を!
A Good Match for This Noble's Daughter!
February 1, 2017
Volume 3
5
この仮面の騎士に隷属を!
Subordination for this Masked Knight!
February 8, 2017
Volume 3
6
この煩わしい外界にさよならを!
Goodbye to This Vexing Outside World!
February 15, 2017
Volume 4
7
このふてぶてしい鈍らに招待を!
An Invitation for This Knucklehead!
February 22, 2017
Volume 4
8
この痛々しい街に観光を!
Sightseeing in This Pitiful City!
February 29, 2017
Volume 4
9
この不浄な温泉街に女神を!
A Goddess for This Corrupt Hot Springs Town!
March 8, 2017
Volume 4
10
この素晴らしい仲間たちに祝福を!
God's Blessing on This Wonderful Party!
March 15, 2017
Volume 4
OVA
この素晴らしい芸術に祝福を!
A Blessing to This Wonderful Work of Art!
July 24,2017
Anime Original
Community content is available under
CC-BY-SA
unless otherwise noted.